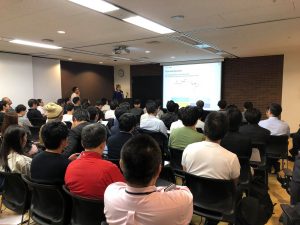 On November 1st, Head of Communication Tamara spoke at the Coinage Meetup "The Future of Virtual Currencies. Learning from the overseas recent trends".
The presentation was about the regulatory trends in small European countries, such as Estonia and the Republic of Belarus, which have come up with their own virtual currency regulations. The latest updates on the situation in Russian Federation were also given.
Another speaker, Mr. Kenji Yanagisawa, international tax advisor and representative of Yanagisawa International Tax and Accounting Office, gave a presentation on virtual currency taxation, regulation and ICO/STO trends in Swiss, Malta and the Republic of Singapore, which are known for their aggressive crypto regulations.