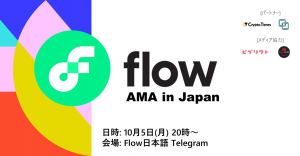 FEB Inc. hosted Flow Blockchain's first in Japan AMA online, together with CRYPTOTIMES on Octorber 8, 2020.
Flow Blockchain is the NFT focused blockchain, developed by Dapper Labs which is known as a company, created "CryptoKitties", the collectible digital cats blockchain game, which took the world by storm since it had launched in 2017.
During the AMA, Mr. Arai, chief editor of CRYPTOTIMES moderated the discussion and Mr. Naayem, CBO of Flow Blockchain answered 13 questions, which more than 150 members community members sent to the hosts before the event.