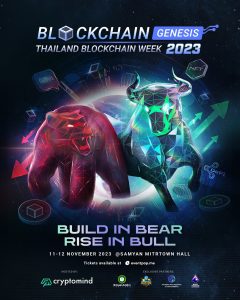 FEB Inc. is pleased to support Blockchain Genesis – Thailand Blockchain Week 2023, the largest blockchain conference in Thailand at the Samyangmit Town Hall on November 11-12, 2023 as a media partner.
https://www.blockchain-th.com/
You can see an interview that our Head of Communication, Tamara, conducted with Sanjay Popli, co-founder of Cryptomind Group on the link below.
https://web.fisco.jp/platform/market-news/0009340020231110026
The event is being hosted for the sixth time by Cryptomind, which operates Bitcoin Addict, the largest crypto media in Thailand. The theme of this year's event is "Build in Bear, Rise in Bull" and will consist of more than 60 sessions and 150 guest speakers.
The event will feature speakers from world-class blockchain projects and international experts, including Yat Siu, co-founder of Animoca Brands, a Hong Kong-based unicorn company known for its NFT development and investments, and Sebastian Borge, co-founder of Sandbox, More than 40 blockchain industry players will have booths, including XSpring, Cryptomind Group, and Merkle Capital.
About Cryptomind Advisory Co., Ltd.
The first official digital asset advisor in Thailand, Cryptomind Advisory is the organizer of Digital Asset Investment Analysis and Blockchain Thailand Genesis, the largest crypto media in Thailand Bitcoin Addict Thailand, Cryptomind Advisory Blockchain Review, Kim DeFi Daddy, Coinman and other Facebook pages with a total of 500k+ followers.