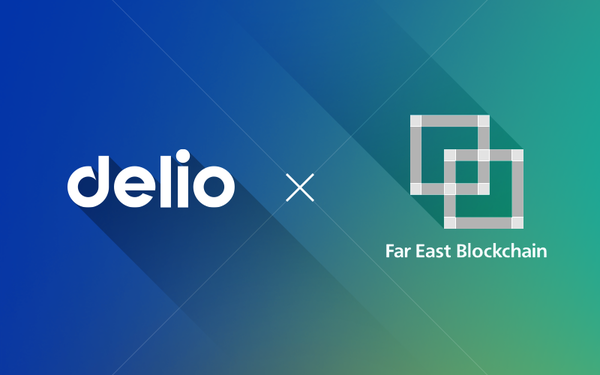 FEB Inc. (FEB) announced on October 30, 2021 that it has entered into a partnership with Delio Co, Ltd (Delio), a leading Korean crypto asset management company specializing in decentralized finance.
Within the scope of the partnership MOU, the two companies will promote and support each other's business in their respective local markets, with Delio supporting FEB's brand awareness and marketing efforts in Korea. FEB will support Delio in localizing its services and entering the Japanese market.
FEB supports global crypto and blockchain companies interested in the Japanese, Greater China, Korean, Russian and Southeast Asian markets, providing strategic consulting, startup investment, business operations support with a focus on marketing, and various research support services including market observation. Public research on market trends, including NFT and local trends, is available on the FEB website.
FEB's clients include major blockchain projects such as NEM, Flow, ZCash, Tezos, Animoca Brands, Radix, etc. FEB's strength lies in planning based on deep insights into each market and working with media, influencers and social media communities in China, Japan, Korea, Russia and Southeast Asia.
Since 2020, FEB has started to provide investment and financing support through equity and tokens to blockchain startups and DAOs (Decentralized Automous Organization), focusing on projects in Ethereum, Polkadot, and Dfinity ecosystems. Another strength is its strong network with crypto funds and VCs in various countries to pass the strict DD and be accepted by the market as a promising project.
Delio is a leading crypto asset management company in Korea and has been rated as the top lending platform in Korea in a recent report by the Korea Internet&Security Agency (KISA), a Korean government agency specializing in blockchain. Delio offers various lending and other crypto asset management products on its platform, and the total market value used for lending and interest accounts recently exceeded 1.5 billion BTC. Delio's lending service is supported by Bithumb, one of Korea's top crypto asset exchanges. Other partners include OK Savings Bank (a subsidiary of OK Financial Group); OKEx and FTX, two of the world's largest crypto asset exchanges; Ledger, a leading crypto asset hardware wallet manufacturer in France (providing asset storage technology); and blockchain rating agency and disclosure platform Xangle, among others. Last month, Delio received its Information Security Management System (ISMS) certification from KISA and completed its registration as a crypto asset service provider (VASP) with the regulator.
FEB sees the Korean crypto market and crypto community as a focus area that has evolved remarkably in recent years and is becoming increasingly active, and we look forward to expanding our collaboration with Delio through this partnership.
News release at the Delio official blog : https://blog.naver.com/byrowa/222552178179
[FEB summary]
Name: FEB Inc.
CEO : Hiroyuki Sakama
Website: https://fareastblockchain.com/
Capital: 3,500,000 JPY
Address: Navi Shibuya V 3F, 5-5 Maruyamacho, Shibuya-ku, Tokyo
Business : Blockchain-related business support
[Delio Co. summary]
Name: Delio Co,. Ltd (Business registration 283-88-00879)
CEO : Sangho Jung / James Jung
Website: https://delio.io/
Address: 302-4, 51-gil, Maehwa-ro, Bundang-gu, Songnam, Gyeonggi-do, Republic of Korea
Business : Provision of crypto asset management and operation services